Hello everyone, starting from now i will try to write a post of what was added or modified in the new version, I will also add my thoughts of these changes and what is coming next, please feel free to comment your thoughts or suggestion as well and let me know if you find this information useful.
Upgrades
1) Custom fields in the Email Subject
Adding submission information in the subject (like for example "New [inquiry type] inquiry" or "Thanks for purchasing [Name of the product]" has been a kind of popular request, now you can do it =).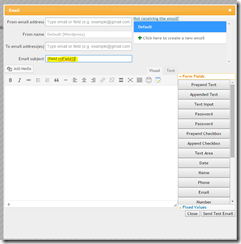 2) Custom CSS
Now you can add your custom classes to any field, this is an important feature if you want to customize a specific field (or set of field) with a particular style, also this small addition will help me add more awesome stuffs (like the possibility to add several fields in a single row) in the future.

Bug Fixes
1) Send test email fix
When I added the option of creating multiple emails the send test email button stopped working (sorry for that) i fixed it in this version.
What's next (tentative)
1) Register user add on
This add-on will let you register users after a form is submitted.
2) Animated submit button
Do you like the save button of the form configuration? I like it a lot and I think it would look great in many forms as well, I plan to make the color and icon of the button configurable

Do you need something?
I put this in big red letters because this is really important, if you need something, if you have any issue or suggestion please let me know. Your feedback really help to make the plugin better, please don't hesitate to contact me =).